Dental Implants in Frisco, TX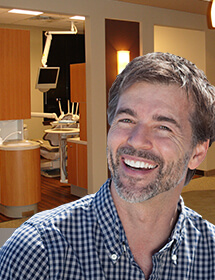 Patients missing one or more teeth don't have to tell us that they're ready for a solution -- we know how traumatic tooth loss can be. Fortunately, dental implants are a comprehensive solution that can help you regain your smile's function and beauty! If you're dealing with the damaging effects of tooth loss in Frisco, Stonebriar Park, West Plano, or The Colony, don't wait to call us to find out how we can rebuild your smile with dental implants.
Implant Restorations
In order for dental implants to be successful, you'll need plenty of supporting jawbone structure and a healthy mouth. Once you and Dr. Hara decide that dental implants are the best option for your smile, we'll recommend you to a trusted, local oral surgeon to perform the actual implantation.
The procedure involves inserting the tiny, titanium implants directly into the jawbone -- and during a recovery period of approximately six months, the implants and bone gradually fuse together. This process, known as osseointegration, gives your new tooth replacement the sturdy base they need.
When osseointegration has taken place, your dental implants are ready to receive their restorations. You'll come back to Dr. Hara's office for this stage -- and that's when the magic really happens. She'll expose the tops of the implants, place a small abutment on each and then securely anchor your new tooth replacement on top. And what's next? Well, it's simple -- you're walking out of our office with your new, beautiful smile!
The benefits of dental implants are significant compared to non-implant supported replacement options. Some of the most common include:
Restored ability to eat, speak and smile like you're used to
Dental implants improve oral health by keeping the jawbone healthy and whole
A more youthful face shape with restored teeth
When cared for properly, dental implants can last a lifetime
No need to rely on suction or mess with over-the-counter denture adhesives for stability
Dental implants can be restored with beautiful crowns, bridges or dentures.
Implant Dentures
When a significant amount of tooth loss has occurred, dentures are likely the best solution for replacement…and nothing keeps the prosthetic as secure as dental implants. Because the prosthetic roots keep the jawbone healthy and whole, you also benefit from continued oral and overall health for years to come as a result of your dental implants. When it comes time to choose how you'll support your dentures, remember nothing works better than dental implants.