Crowns and Bridges in Frisco, TX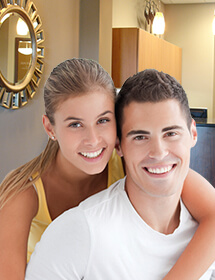 Traditional crowns and bridges have long been a wonderful way to restore teeth from serious damage, or to replace one or more missing teeth. Our patients in Frisco, Stonebriar Park, West Plano, and The Colony all benefit from the experience and artistry Dr. Hara brings to restorative dentistry -- and crowns and bridges are some of our specialties at New Horizons Dentistry. Keep reading to learn more about dental crowns and bridges, then contact our office to schedule your appointment and get started rebuilding your smile today! We can't wait to reveal your healthiest, most beautiful smile.
Dental Crowns Restore Damaged Teeth
Dental crowns and bridges are related, but they're not exactly the same thing. If you've got a severely damaged tooth, a beautiful dental crown can help restore it to its regular function. Usually made of porcelain or ceramic, a dental crown is a thin, tooth-shaped covering that fits directly over the damaged tooth to protect it from further damage and strengthen it for normal use.
Dental crowns can correct a number of dental issues in the front or back teeth including:
Holding together pieces of broken or fractured teeth
Severely decayed teeth
Misaligned or misshapen teeth
To replace missing teeth as a restoration for dental implants
Dental Bridges Replace Missing Teeth
Tooth loss is a traumatic event, no matter how it happens. Fortunately, patients missing one or more teeth can find the solution they seek with a sturdy dental bridge. This treatment can work by applying a beautiful dental crown onto the natural teeth surrounding the gap left by missing teeth -- anchors that support the prosthetic teeth in between.
While dental bridges supported by natural teeth are a fine option, dental implant-supported bridges are the most secure method in tooth replacement. This treatment uses dental implants to support prosthetic teeth -- devices that increase stability and encourage better oral and overall health. Click here to learn more about the advantages of implant-supported prosthetics.
Caring For Your New Crown or Bridge
Once you've had your crown or bridge placed at New Horizons Dental, it's more important than ever for you to maintain excellent oral hygiene. Brushing your teeth for two minutes, at least twice a day, flossing once a day and visiting your dentist as recommended (usually every six months) will go far in helping to keep your crown or bridge strong for years to come.